Innovel®
PRO
The enhanced inside spray coating uses no bisphenol-A (BPA) or bisphenol starting substances and offers a more robust application.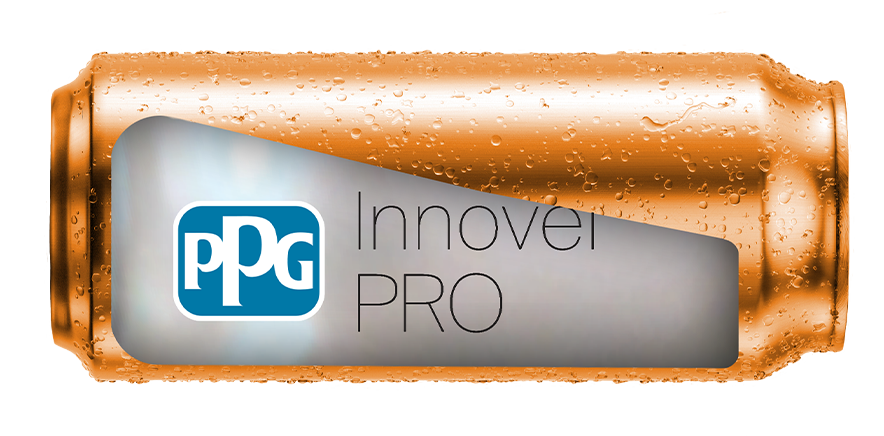 PPG Innovel® PRO delivers added protection
The PRO Series is our core, high volume non-BPA internal platform utilizing proven technologies that deliver efficient results can makers and brand owners can rely on.
PPG researchers and engineers developed PPG Innovel PRO, the next-generation high-performance acrylic coating for enhanced operational efficiency. It draws on PPG Innovel's nearly 10 years as the market's most widely used, non-BPA internal beverage spray coating – coating more than 220 billion cans in more than 40 countries to date. PPG Innovel PRO continues to comply with all global food contact standards for consumer safety, and its added operational benefits are rapidly being adopted in can plants around the world.
Validated with the PPG SafeAssure® protocol for safe food-contact coating development, PPG Innovel PRO features improved can line application while reliably supporting the ever-widening range of filling goods that beverage brands want to can. Innovel PRO features a lower migration profile than standard epoxy and epoxy-mimic coatings, and all Innovel inside spray coatings have achieved a Platinum Cradle-to Cradle® material health certification.
The innovation goes beyond the product itself. PPG Innovel PRO offers customers a resilient supply chain with regional manufacturing sites across the globe. And it comes with the support of the industry's leading technical and regulatory support teams, who provide on-site expertise to keep customer operations running smoothly.

Our PRO, MAX & EVO Series
It's easy to find the innovative non-BPA coating for your needs
With the introduction of PRO, MAX and EVO for our PPG product lines, PPG remains at the forefront of industry innovation. The PRO series feature proven technology to deliver consistent, efficient results time after time. Our MAX series meet challenging and specific requirements for enhanced resistance for aggressive filling goods while the EVO series feature pioneering technologies and advanced processes with future regulatory updates in mind.

Please fill out the form to start learning more.
Learn more from our beverage coatings experts