The following article originally appeared in a print edition of 'CanTech International.' You can also clic​k here​ to read it.
As little as five years ago, consumer beverage brands had nearly a single can format to choose from—the standard 12oz aluminum can. As brands expand their offering with new products and compete for shelf space with non-alcoholic beers, mocktails, coffees, energy, nutrient and herbal-infused beverages, they need distinctive and innovative packaging to capture consumer attention. As a result of industry innovation, investment and creativity, many of today's most successful brands use diverse beverage can sizes, designs, and functions to catch consumers' eyes and create a memorable drink experience that keeps consumers coming back for more.
Stronger industry collaboration between beverage brands, can makers, coatings suppliers and others in the value chain not only enable a wide range of future metal packaging designs and solutions, but also tackle the beverage industry's evolving challenges and opportunities, including supply chain optimization, enhanced sustainability and keeping pace with rapidly changing global regulations.
Collaboration enhances beverage can designs
Forward-thinking brands take an integrated industry approach to differentiate the packaging of their products through enhanced beverage can designs or new beverage can functionality. Remember when the Monster energy drink entered the market with its oversized 16oz can, featuring a standout design while packing a jolt of caffeine? The Monster Energy brand partnered with can makers, coatings and ink suppliers, and label design and print engineers to launch a larger can with a visual and touch sensation textural surface, bringing its vision to life. Monster Energy was one of the first to widely use a tactile finish, which is growing in popularity throughout the industry today. This historical example demonstrates how value chain collaboration and differentiation contributed to one brand's exponential market growth. Many brands have started to adopt this technology and integrated approach to bring a differentiated package to the consumer. In more recent years, well-established brands with new products entering the market have turned to can makers and coating suppliers for distinctive beverage can design finishes and effects. One particularly striking example brought to life is Bombay Sapphire gin and tonic canned cocktails, which feature a matt finish to enhance the aluminum beverage can with a sophisticated premium look and feel consistent with this 260-year-old brand's iconic history. This 250ml small, sleek beverage can with a matt finish, rose gold accents and distinctive Bombay Queen Victoria logo, successfully personifies its image and iconic brand personality on the beverage can.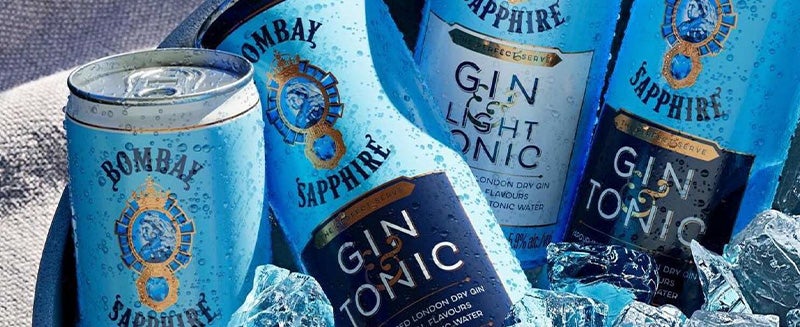 Many brands have adopted colored and laser-etched beverage can ends and tabs for increased consumer engagement and shelf differentiation. Functionalities such as colors, cutouts, embossing and laser-etched tabs with logos or messages, closable lids, or fully removable ends create convenient, memorable, and easy-to-use products. All these innovations bring the brand personality to life for the consumer and require industry collaboration to bring them to fruition.
Collaboration solves industry issues
Industry collaboration will be even more important to secure the future. In the past few years, the beverage can industry, like all industries, experienced supply chain disruptions, long transportation lead times and labour shortages. Today's beverage industry collaboration to build more secure and diverse supply sources, shorter and less complex transportation routes and leveraging technology for efficiency, will make the industry more resilient for the future challenges it will face.
The industry also faces increasing consumer demand for sustainable packaging. That's why brands turn to aluminium, because aluminium cans already have a higher recycling rate and more recycled content than competing package types. The Aluminum Association estimates that nearly 75 per cent of all aluminium produced in the US is still in use today. Metal Packaging Europe reports that no other beverage packaging can reach such high recycling rates while using so little primary material, resulting in product circularity and carbon emissions reduction.
Another example of how collaboration will lift the entire industry is by standardizing sustainability reporting. At the time of writing, the sector has no standardized practice to calculate product and corporate sustainability ratings, lifecycle analysis, and carbon footprint. The industry needs collaboration and alignment on sustainability standards, rating providers, and material health rating systems to ensure the value chain members work from the same playbook. Standardizing and simplifying sustainability metrics will maximize the benefit across the entire value chain.
Collaboration for the future
Industry collaboration remains critical to secure growth for the future. The beverage industry has boomed in the past few years due to the shift from offering just beer and carbonated soft drinks to adding a wide variety of beverages spanning protein drinks to non-alcoholic beer and carbonated water. As the space becomes more congested by the minute, a decorative package proves an effective strategy to help brands generate interest, demand and loyalty for their products. Greater industry collaboration can push beverage can sizes, designs, and functionalities to new levels while tackling important industry issues, ensuring the new beverage can era thrives well into the future.
AUTHOR
Robyn McMillan PhD, is PPG Packaging Coatings' global beverage segment manager. She has earned numerous accolades in her 34-year career – including five US patents – and has played a leading role in the growth of innovative Packaging Coatings products, including iSense external coatings and Innovel non-BPA internal coatings for beverage cans. Packaging Coatings business creates effective coating solutions for nearly all metal packaging end-use in the beverage, food, cosmetic and personal care industries. To learn more, visit www. packagingcoatings.com