The following article originally appeared in the September/October issue of 'Food and Drink Technology Magazine.' You can also clic​k here​ to read it.
A global treaty on plastic waste takes shape under government leaders from 20+ nations, including Germany and the United Kingdom. According to recent news reports, the High Ambition Coalition to End Plastic Pollution hopes to curb plastic pollution by developing a treaty by 2024 and considering measures such as a plastic packaging tax. This ambitious coalition marks another example of the increasing global regulations and consumer pressure for sustainable packaging.
Thus, major beverage brands are shifting to metal to keep up with the demand – particularly aluminum cans, which offer consumer recycling advantages and are made possible by advancements in coatings technology.
Aluminum advantages
Aluminum beverage cans support a truly circular economy. Aluminum cans have a higher recycling rate and more recycled content than competing package types. The Aluminum Association estimates that almost 75 per cent of the aluminum produced in the US is still in use today, thanks to its ability to be infinitely recycled. Metal Packaging Europe reports that no other beverage packaging can reach such high recycling rates while using so little primary material, resulting in product circularity and carbon emissions reductions. Also, the lightweight, stackable, and strong aluminum cans allow brands to package and transport more beverages using less material.
In addition to recyclability, aluminum cans offer higher safety characteristics and longer shelf life by preventing microbes, light and oxygen from damaging the product inside the beverage container. Aluminum cans also provide the benefits of fast chilling.
Makers of emerging beverage products, such as ready-to-drink cocktails, wine, coffee-based drinks and cannabis-infused drinks, understand the aluminum can benefits and are taking advantage of them. For example, beverage brand Liquid Death offers aluminum cans designed with skull and crossbones logos and are filled with Austrian Alps water. In a recent Wall Street Journal interview, the makers said they were intentional about its packaging and brand psychology. The makers disguised the water as a lager for teetotalers to blend in at major sports and entertainment venues. They wanted to create a healthier product that did not necessarily "look" like a health drink. However, the growing aluminum beverage cans shift is made easier by the innovations in can coatings.
Coatings solutions
Major beverage brands need confidence that the aluminum cans will not negatively impact the product taste, quality or shelf appeal. These brands are eager to preserve product quality and differentiation through shape, colour and tactile qualities in the metal can packaging.
Interior coatings advancements ensure flavor stability, prevent beverage or coating migration, and comply with all global food contact standards. The outer coatings advancements prevent abrasion or damage during transit and support industry trends toward a wider array of shapes and customized printing options to ensure products stand out among increasingly crowded shelf space. These coatings innovations must apply easily and reliably in varying temperatures and humidity in different plant conditions.
Coatings innovation requires extensive testing to ensure superior performance in products packaged in aluminum cans. For example, PPG researchers and engineers developed and recently launched its latest inside spray coating, PPG Innovel PRO, for improved operational efficiency by eliminating waste. The technology draws on PPG Innovel's coatings' nearly ten years as the market's most widely used, non-bisphenol A (BPA) and non-bisphenol starting substances internal beverage spray coating. The technology has coated more than 220 billion cans in 40+ countries to date.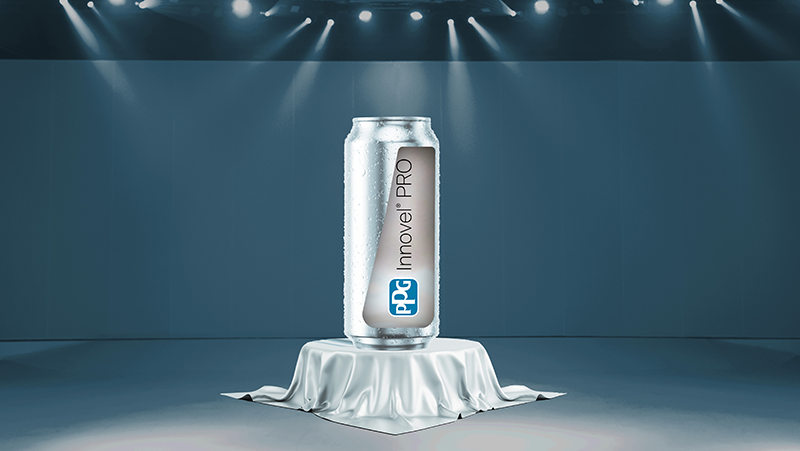 Safety as priority one
Coating innovations remain crucial in today's food and beverage industry transition from packaging that relies on BPA or other bisphenol starting substances that have the potential to raise health concerns.
Coatings manufacturers must consider the starting substances and the potential extent of migration into food or beverages to validate alternatives for use. For instance, PPG Innovel PRO inside spray coating uses no BPA or bisphenol starting substances and complies with all global food contact standards for consumer safety. PPG prescribes its PPG SafeAssure product development program for screening starting chemicals and those that could affect the packaged food or beverage to assure the longevity and sustainability of new packaging technologies. That's why coatings manufacturers must pay close attention to regulatory actions around the globe regarding other materials used in food and beverage packaging to prepare for the future.
Find the right coatings partner
It is important for can makers and major brands to partner with the right coatings manufacturer to solve today's sustainability challenges and to plan for what's ahead. Coatings manufacturers that take a proactive approach to tightening regulations and increasing consumer demand will help the beverage industry meet its sustainability goals through technological advancements, greater coatings technical support and close monitoring of issues.
Finding a coatings partner that takes its sustainability journey seriously is critically important during this defining moment for climate change. PPG remains steadfastly committed to sustainability, with ambitious goals to address climate change. However, this only happens with strong collaboration with customers. We are all in this together.
About the author
Anurag Raj is the PPG Customer Sustainability Business Partner, Packaging Coatings. He is responsible for leading and supporting PPG's and its customers' sustainability targets. PPG's Packaging Coatings business creates effective coating solutions for nearly all metal packaging end use in the beverage, food, cosmetic, and personal care industries. To learn more, visit www.packagingcoatings.com
Subscribe to Food and Drink Technology here.