The following article originally appeared in a print edition of 'The Canmaker.' You can also clic​k here​ to read it.
The internal lacquers, coatings or linings, used to protect metal cans from the product and the product from interactions with the metal are critical to the safe performance of the can. Without effective coatings, at best the shelf-life of products in metal cans would be much shorter, and at worst there could be food safety and adverse health risks.
For many years epoxy resins were the most commonly used can coatings. They have a proven track record for their performance, manufacturability and food safety. However, epoxy resins are made using Bisphenol A (BPA) as an intermediary and although the US Food and Drug Administration (FDA), European Food Safety Authority (EFSA) and many other regulatory agencies around the world approved the use of BPA-based coatings in food contact materials, in the past two decades there has been concern about the safety of BPA and its derivatives (1), and the potential for its migration into foods or drinks.
As a result, there has been continual and mounting pressure to have BPA removed from food and drinks containers. Polymers containing BPA were banned for use in infant feeding bottles across the EU in 2011. Further restrictions were imposed on using materials containing BPA and in 2015 France banned BPA in all food packaging, containers and utensils.
In the same year BPA was listed on the California Proposition 65 List (Prop 65), which meant it had to be declared if used. In the EU, while BPA is permitted for use in materials that are in contact with food, there is a maximum amount that is allowed to leach or migrate out of the material (a tolerable daily intake, or TDI, of 0.05 milligrams/kilogramme of body weight per day) and government agencies are continually re-evaluating the risks to public health related to the presence of BPA in foodstuffs. Further tightening of the TDI limits are being proposed.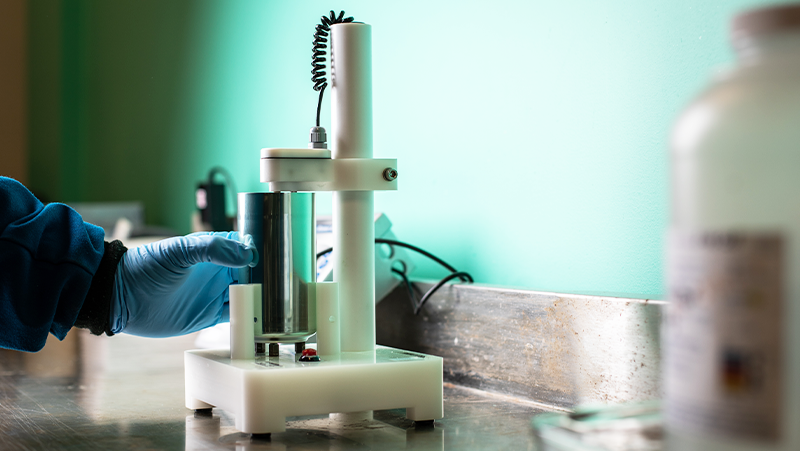 As a result, the level of innovation and research and development that has gone into lacquers for food and beverage cans in the past two decades is unprecedented. In 1995, the first research results indicated that the toxic compounds from BPA could be implicated in affecting endocrine and carcinogenic activity in humans and, ever since, polymer scientists have spent thousands of hours trying to find safe alternatives.
BPA is a monomer that when chemically bound together makes up epoxy polymers. A simplified explanation of the concern is that depending on the way in which the polymerisation reaction occurs, some could remain unbound. Because of its small size, the unbound free monomer is capable of migrating into a product, and although the amount of migration was always microscopically small, once it was understood that the monomer could have detrimental health effects, research became focused on ensuring that minimal migration occurs, and on replacing epoxies and specifically those based on BPA.
This has proved to be a challenge because epoxy-based compounds are particularly well-suited to food packaging, and have played a significant role in advancing food safety by reinforcing container integrity. Fortunately, advances in material science have enabled chemists and polymer scientists to rise to the challenge and a host of new options have become available.
The performance of epoxy lacquers is such that these new options have had to provide characteristics such as ease of application, flexibility, adhesion, inertness (no reaction with the product with regards to flavour, odour or colour skelping), excellent coverage and at the required thickness, and cost competitiveness. The options that polymer scientists from the coatings manufacturers are researching include polyesters, acrylics, and clean epoxies dubbed as BPA-NI, where NI means non-intentional: while there is no BPA in the formulation, BPA that is in the environment may be detected.
Over the same time, the beverage industry has exploded with new products and types of beverages. The first beverage cans were used for beer and carbonated soft drinks. Today, besides these two still-popular options, we have sugar-free and low-sugar drinks, ice teas, energy drinks, ready-to-drink alcoholic cocktails, functional drinks, hard seltzers, nutraceuticals, and beyond.
Canned water has become popular and has proved to be more difficult to pack than originally expected. There are also low acid/neutral pH beverages that need to be processed at high temperatures to ensure shelf-stability such as coffee, protein shakes and coconut, soya and various nut milks. Canning wine poses the challenge of the associated sulphur dioxide, so the complete coverage and integrity of the internal lacquer in the can is paramount.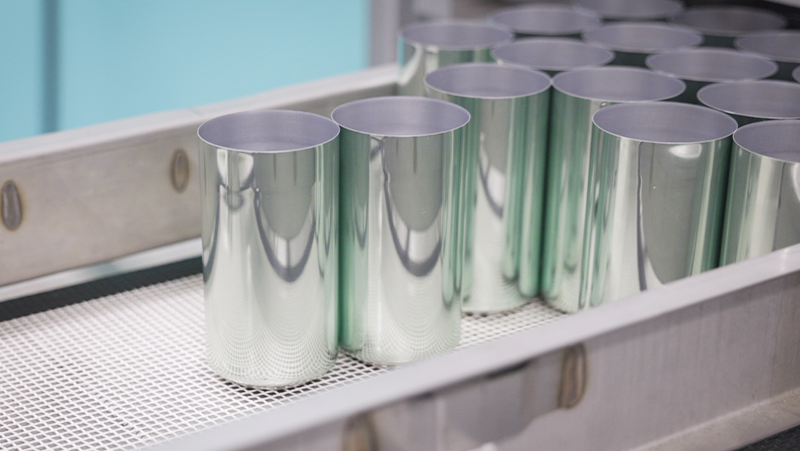 The entry to the curing oven on the PPG Innovel pilot line
This variety of new products means that, compared with 20 years ago, lacquers now need to be able to withstand a range of product characteristics, including:
• Low pH: as low as 2.5
• High levels of dissolved oxygen in the product, especially still products
• Inclusion of potentially corrosive preservatives and colourants
• Low- and no-sugar alternates. Beverages with higher sugar contents have proved over the years to be less aggressive towards the metal
• Functional ingredients that are oil-based and therefore potentially react with the polymer linings – for example, cannabidiol
• Heat processing/retorting of the low acid and pH neutral products. Traditionally beverages were cold filled and preserved by virtue of the low pH and preservatives, or the milder heat of pasteurisation.
So, today we find the use of non-BPA and BPA-NI coatings is increasing but the uptake is very variable in different regions in the world. The adoption seems to be mainly due to pressure from legislation, which in turn is linked to consumer pressure. While in some markets the switch to the new BPA-free or BPA-NI technologies is very high, overall, worldwide, it is still relatively low.
Sebastian Pordomingo, product marketing director for packaging coatings at AkzoNobel, explains the penetration of the new generation coatings: "In the US we see about 50 per cent of canmakers moving away from coatings with BPA, but in Europe the shift does not appear to be so widespread. In Europe only about 7 to 10 per cent of canmakers are switching and this is mostly from those in France who are reacting to legislation changes. In Europe, any significant shift will be directed by regulatory compliance.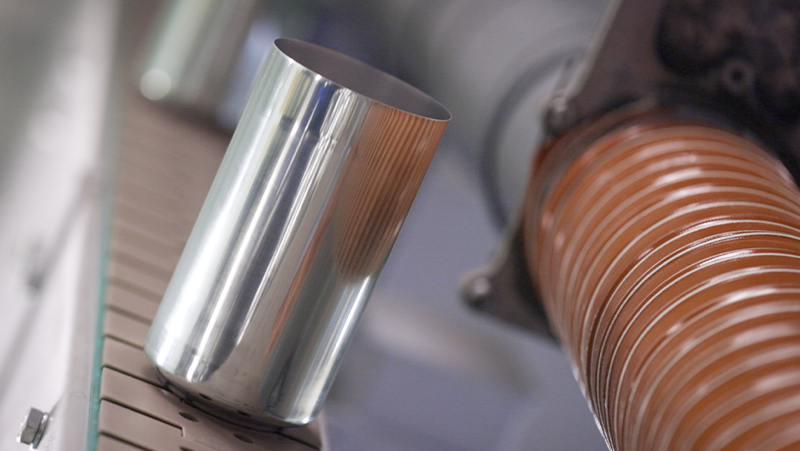 A beverage can entering the PPG Innovel pilot line at the PPG
"Elsewhere the transition is slower, Pordomingo says: "When it comes to other markets worldwide, however, we are seeing very little movement. But what we do see, regardless of location, is that canmakers are looking to us for guidance and support. "They may not be ready to switch to BPA-NI, or indeed may not be convinced of the necessity until legislation persuades them otherwise, but they do want a trusted partner who not only provides reliable products that they can depend on, but who can also be a supportive partner who can help them to protect margins, process faster and embrace change.
"PPG's approach is also to be ready to help canmakers switch when required, says Dr Robyn McMillan, global beverage segment manager: "Although the 2015 French ban on BPA and the similarly timed California 'Proposition 65' set global canmaking bisphenol regulation in motion, this is nothing new to us. Since the 1990's, PPG has been a pioneer in the development of non-BPA food contact technologies.
"Given the growing worldwide chorus of regulations that aim to remove all bisphenols from food contact coatings, it's safe to say that 'non-BPA' is rapidly becoming the global standard in inside beverage can technology. And as a direct response to that demand, we've localised production of our Innovel non-BPA internal beverage can and easy-open-end coatings in each of the four global regions.
"There have been numerous trials, modifications and tweaks over the past decade, but all the lacquer suppliers consulted agreed that the products they now have on the market perform as well as epoxy-based coatings, regardless of the chemistry that the manufacturer has chosen. In addition to this, having had to re-imagine their coatings has given the manufacturers the opportunity to do it better: more in line with sustainability, with lower emissions and the energy efficiency requirements of our modern world. BPA-NI and BPA-free coatings have a smaller carbon footprint and reduced environmental impact. All the manufacturers of these coatings and lacquers are acutely aware of the impact that their products may have on the planet and have, from the onset, had this in mind when developing the BPA-NI and non-BPA alternatives.
This is a particular focus at Sherwin-Williams, says Thomas Mallen, vice president of compliance and technology marketing: "The need for non-BPA lacquers has long been recognised by brand owners and canmakers, but early-stage non-BPA alternatives struggled to ensure the same high productivity and performance level as epoxy coatings. Responding to this challenge, we developed a range of non-BPA solutions, the valPure series, and we remain the only company that offers an epoxy-based technology, valPure V70, that ensures product integrity and supports a seamless transition for canmakers, without the use of BPA.
"In the market we are seeing a growing demand for products that are both safe and sustainable by design. To support the transition to non-BPA products, we use a proprietary Sustainability by Design methodology that ensures our lacquers have been designed according to and evaluated against a range of metrics, including human health, product safety and environmental impact.
"By developing an epoxy-based technology, we ease the transition to non-BPA solutions as there is no requirement to overhaul existing can manufacturing and maintenance processes. Although the conversion to non-BPA is relatively small in some markets, we expect significant momentum in Europe in the coming years, and therefore ensuring products are safe, and sustainable by design to serve as a long-term solution for industry is a top priority for Sherwin-Williams."
The current generation

So, to review these BPA-free or BPA-NI offerings we have:
• valPure V70 from Sherwin-Williams, a coating that is based on an epoxy resin platform not made with BPA, but with the benefits of traditional epoxies
• The Innovel range from PPG: acrylic-based coatings for beverage cans designed to provide flavour-neutral properties as well as effective pasteurisation and retort capabilities, making them suitable for a broad range of beverages
• Aqualure G1 50 from Akzo Nobel, a waterborne modified acrylic internal spray for beverage cans enabling customers to transition easily to and from epoxy-based lacquers.
Actega also manufactures BPA-NI products for canmakers. "Actega has sped up the launch of BPA-NI coatings for the external side of food cans and ends, as well as for closures," says Dr Teresa Ramos, general manager at Actega Artística. "In parallel, a new catalogue of internal BPA-NI coatings – gold, aluminium or white – has been developed to replace traditional epoxy-based chemistries.
Water-based coatings are alsobeing developed, says Ramos: "Actega is already working on a full range of aqueous polymeric dispersions for designing the next generation of sustainable and fully compliant coatings.Coatings manufacturers agree that when using the latest BPA-NI and BPA-free coatings there is minimal difference for the canmaker.
The new lacquers are easily substituted on the line, the process and curing is either the same or very similar and very little change to the equipment or processes is required. There is minimal impact on production and so canmakers can enjoy the same level of productivity that they have using the epoxy coatings.
Compatibility is also controlled, says Ramos: "Actega carries out regular compatibility studies between ACTEcoat, ACTEbond and ACTEseal coatings and its range of compounds, printing inks and sealants, with the goal of ensuring full performance of the systems supplied to its customers.
"An alternative to these is Dow's Polyolefin Dispersion Technology called Canvera. Under development for more than a decade, it uses micron-sized particles of a thermoplastic carried in an aqueous solution, marketed by several companies, amongst which Metlac, under the POD brand, it has been commercialised selectively in Europe with continued market development.
The new generation

The new coatings technologies are suitable for all beverage types, whether it is water, juice, beer, carbonated or non-carbonated soft drinks or energy drinks. All these suppliers of coatings have technical teams that are specifically trained to ensure a smooth transition to the new-generation coatings and use the opportunity to optimise curing times and application thicknesses.
There are however some challenges that have been identified during this introductory period. The first generation of the BPA-NI and non-epoxy lacquers were more difficult to run on the lines as their viscosity was higher, making them more challenging to process in the curing ovens, which tended to gum up, resulting in longer clean-up times and more downtime. Progress in ovens and coatings has resulted in being able to optimise the curing and application process for the better. According to HeatTek, oven manufacturers such as themselves have had to learn to understand the chemistry of the coatings and lacquer materials, to optimise oven design for more effective application, curing and cleaning.
There is an enormous amount of interest from canmakers and fillers in switching to these new coatings and lacquer offerings, especially from fillers who want the opportunity to export their products to a wider range of markets. It seems that the trial period is now over and that the coatings have proved that they are capable of performing as well as their BPA epoxy-based cousins, and as with all the difficult and challenging times, the resultant product may prove to be cleaner, healthier and greener.
There is a quote that is attributed to Don Huberts, The Economist (24 July 1999): "The stone age did not end because the world ran out of stones, and the oil age will not end because we run out of oil."
Ergo, the age of epoxy coatings and lacquers may not end because they are not fit for purpose – they have proven that they are – but it could now be the time for BPA-NI and non-BPA lacquers and greener and more sustainable technologies to come to the fore.
* Susan Featherstone is director of Safe Food Consulting in South Africa. Tel: 27 (0)82 807 5627.Website: www.safe-food.co.za1. BPA derivatives include BADGE, BADGE H2O, BADGE.2H2O, BADGE.HCl, BADGE.2HCl and BADGE.H2O.HCl.